Why is the NBA trying to rescue this season?
It looks like the league will be on ice into June, which is the normal ending point for an NBA season. Why not just cancel the remainder of this season and look ahead to 2020-21?
Good morning.
I wanted to offer a few words about what I'm planning to do in this highly odd time, given that you are reading a basketball newsletter and basketball (like everything else) has been cancelled for some unknown amount of time.
I'm planning to continue writing about developments with the suspension of the season and how that will play out — you'll see that below given this weekend's news that the NBA is looking at a 3-month hiatus.
I presume that this type of news will be less frequent than the normal NBA news cycle, so there will be fewer timely developments to write about, which then leaves a gap. I intend to fill that gap by reflecting on various basketball topics in fun ways that help provide some sort of distraction from the ongoing crisis. (I might also sometimes write about the ongoing crisis.)
I mentioned haiku last week, and I am not joking about that. There's an NBA Hall of Fame idea kicking around in my head as well, and I'd love to write about my favorite mixtapes from over the years. It sounds like the extremely long Jordan doc will be coming out sooner than expected; that should provide some opportunity for reflection. And you'll get a set of links daily.
I'll be writing five times a week still, assuming I don't get sick. (Knock on wood.) I might open up a couple issues per week to the free list instead of one. Like I said, this is a highly odd time. The plan I developed back when my life was thrown into tumult with the whole Vox Media/AB 5 thing is being stretched in strange ways. But we go on. Indoors. Away from other people.
Thanks for sticking with me. Let's basketball.
---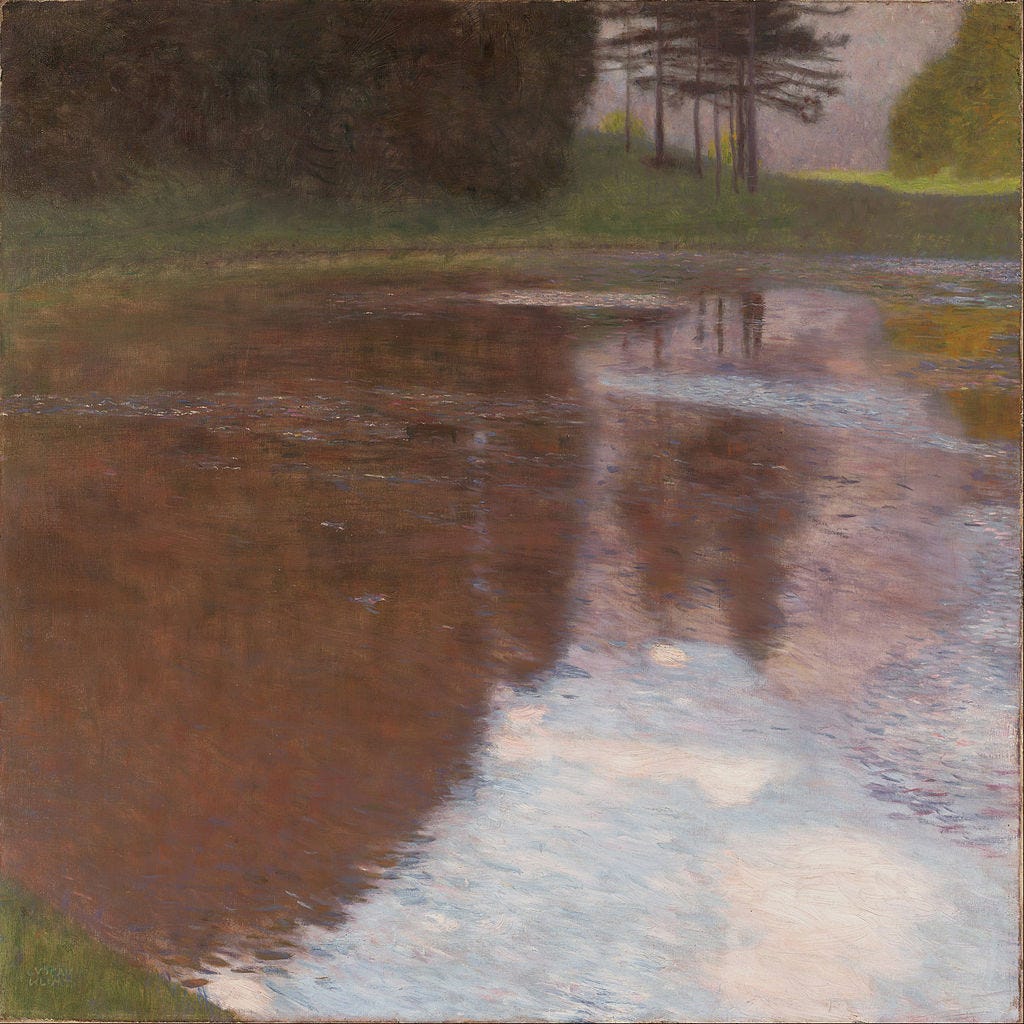 Tranquil Pond, Gustav Klimt
ESPN's Adrian Wojnarowski reports that the NBA is preparing to be shut down through sometime in June after the CDC's recommendation against gatherings of at least 50 people for the next eight weeks. (That recommendation extends to mid-May.) Woj reports that the league office has directed teams to ascertain arena availability dates through August — not just at the 18,000ish-seat arenas they normally play, but at smaller arenas nearby as well in case the NBA ends up playing games without fans.
You can't have a televised NBA game with less than 50 people. Players alone constitute 26-30 people. Even three coaches per team and three officials takes you to about 40. Scorekeepers, floor moppers, trainers, camera crew, announcers. It just doesn't add up. So you can't run a game until you're comfortable holding "gatherings" of that size, even if at that point you're still not admitting thousands of fans into the building.
Something doesn't add up. If the season usually ends in mid-June, and you don't think you'll be able to play until mid-June … why continue the season? If players are limited to individual workouts for a couple of weeks, and are being allowed to return to wherever home is instead of remaining in their NBA city (note: this does not appear to apply to the European players in the league, at minimum) how are teams expected to be ready to start back up in June?
Wouldn't it be better to end this season and hope you can start the next one on time? The NCAA didn't really have a choice here due to the nature of player availability and eligibility. And the NCAA at the very least has some clarity on what happens next with regard to their competitions.
Cancelling the NBA season outright is not fair to the best 2019-20 teams, who lose out on a chance to win a championship. It's not fair to the players and coaches in line for awards. You can't just have franchises run back the same rosters next year because that would impact players due for big raises this summer (assuming non-catastrophic impacts on the salary cap). You can't just extend everyone's contract a year.
It's not fair. None of this is! But what's the motivating factor here? Is Adam Silver just doing his due diligence on investigating every avenue by which to preserve his franchisees' investment and revenue streams? Have people in power within the NBA acknowledged to themselves and perhaps each other that this is a fools' errand, that in the end cancelling the rest of the season is the right and perhaps only choice?
If so, when is everyone else going to find out?
If not, why not?
---
The Taylor Swift Songs Bracket
Yesterday, in an effort to help people out with their pandemic boredom, I posted this on Twitter.
Note that this didn't capture all Taylor Swift songs (she has many more) and I based seeding largely on peak chart positions for the (many) singles and last.fm rankings for the non-singles.
Here are three things I learned:
I way underrated the love for "All Too Well." It's a non-single and I knew it was a fan favorite (it's my favorite song of hers), but it's No. 40 rank on last.fm indicated to me that it wasn't a top-25 seed. My mentions indicate otherwise!

A lot of people like a lot of songs on Lover. I can't believe I didn't include "Cruel Summer" as that probably would have been a Sweet 16 song for me.

"Shake It Off" is clearly Swift's biggest song of all time (charts, record sales, etc.) I still got yelled at for making it a No. 1 seed. Someone told me I need a new hobby!

People like "Style"??? I love that song but my understanding was that it was the first chart disappointment off of 1989. Weird.
I promised my completed bracket in Monday's newsletter (not that anyone cares what a 30something dad thinks about "Teardrops on My Guitar" vs. "Should've Said No"). Here you go.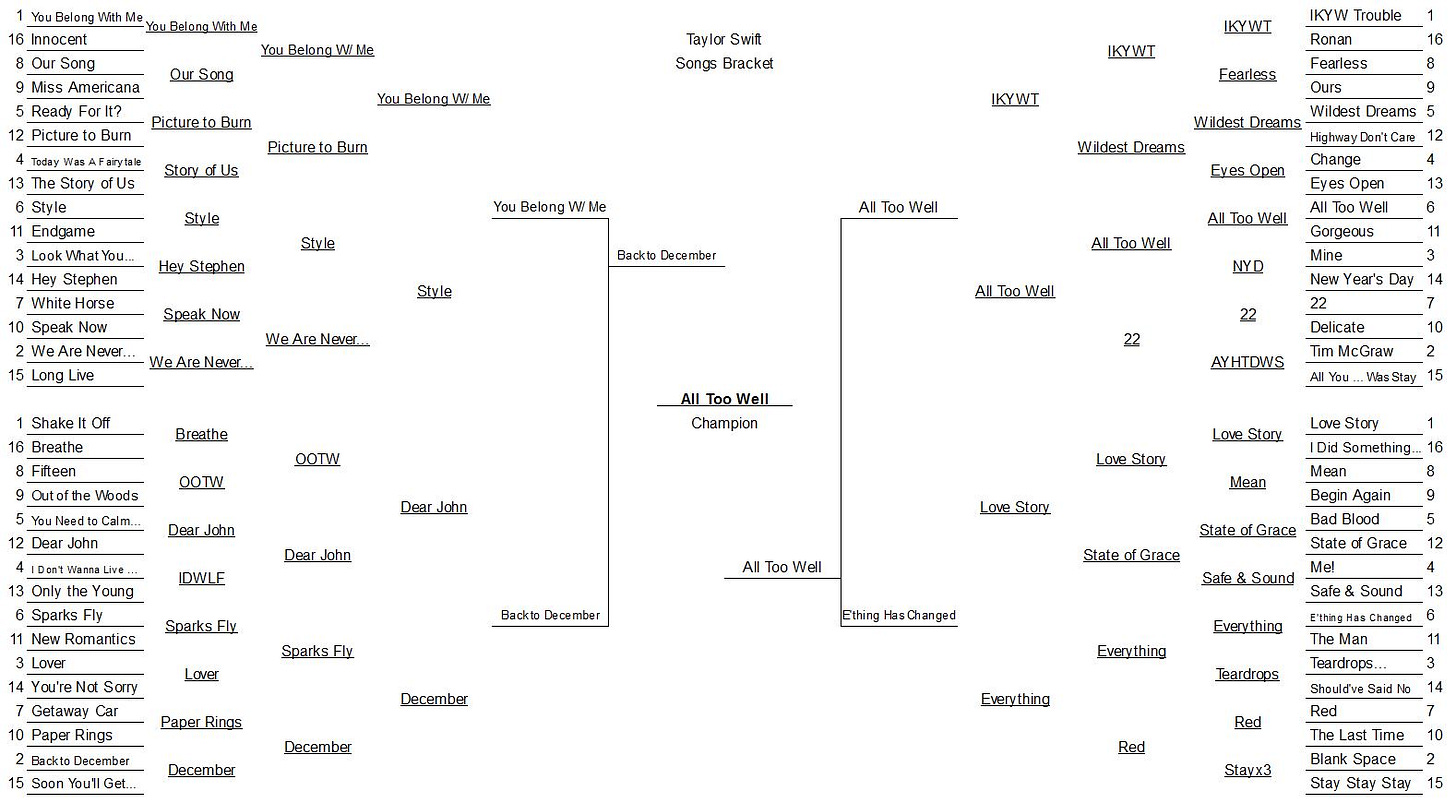 I'm absolutely making a playlist of my Sweet 16 here. Post your Elite 8 or Final 4 in the comments.
---
Links
Christian Wood is the third NBA player to test positive for coronavirus. The Pistons played the Jazz a little over a week ago.
Fascinating story by the New York Times' Marc Stein on Danilo Gallinari's particular insight into the coronavirus spread within North America given what he'd been hearing from family and friends in Italy. ($)
Rudy Gobert cut a coronavirus PSA for the league.
The G League season is probably completely cancelled.
Zach Lowe podcast with Howard Beck on the NBA's coronavirus response and impacts.
Nice illustration of the importance of flattening the curve.
Rob Mahoney on the waiting game.
And finally: Dirk Nowitzki's minivan got stuck in the mud so he called Deron Williams, his friend with a truck, to rescue him.
So i get a text from
@swish41
asking if I'm on quarantine? Followed by I'm stuck in the mud can you come pull me out with your truck? U can't take a damn mini van off-roading Dirty!!!! 😂🤣😂🤣
#retiredlife
---
Be excellent to each other.