The West play-in chase is fantastic, and the NBA should make it permanent
It might be tricky and less awesome to add it in normal NBA seasons, but the league should try.
Good morning. Let's basketball.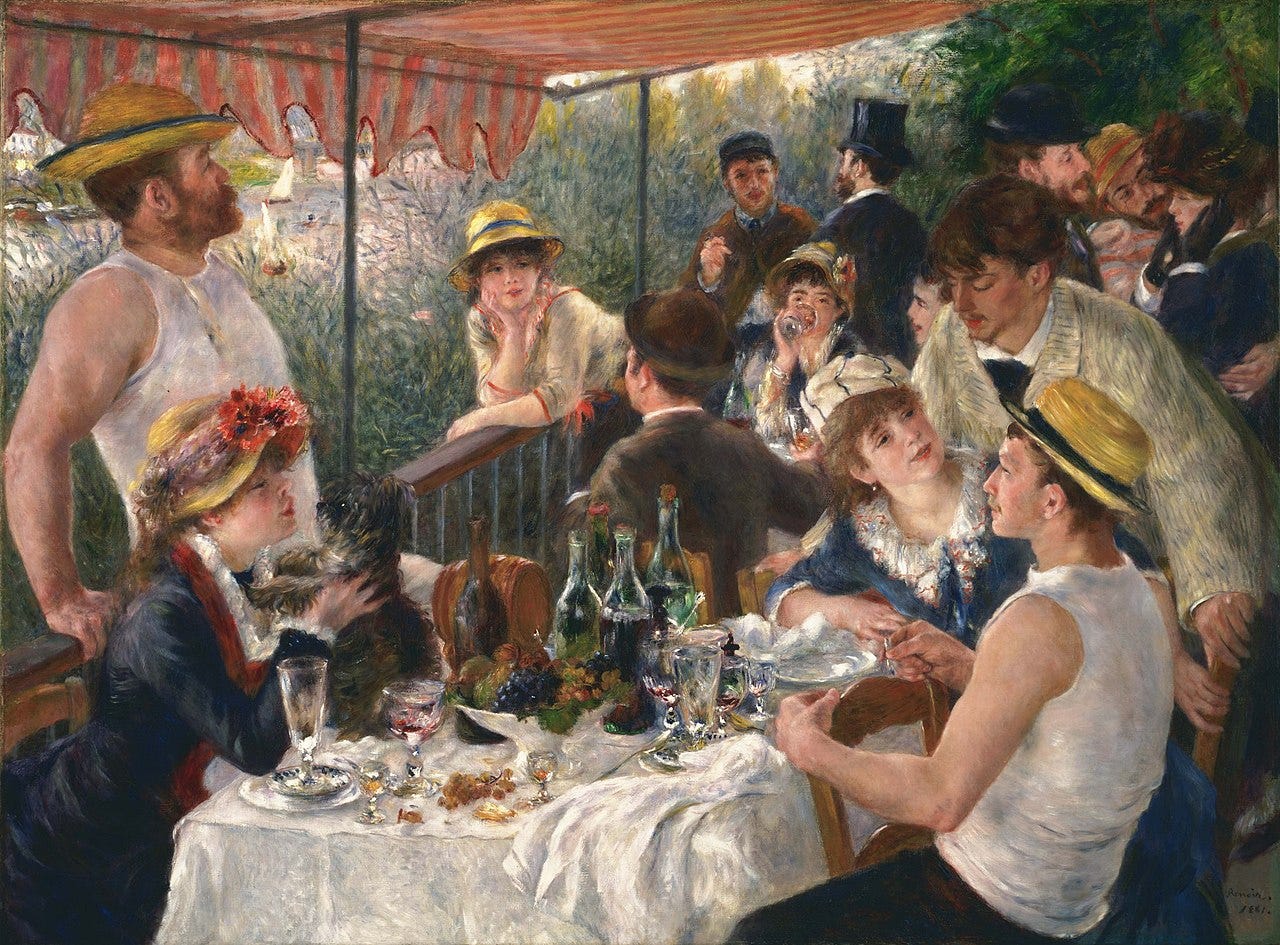 Luncheon of the Boating Party, Pierre-Auguste Renoir
To NBA reformers, the league's play-in solution looked like a fairly soft effort to ensure there was a reason to bring more than 16 teams to the bubble and provide some competitive juice for these eight seeding phase games necessary to get everyone up to speed and fulfill some T.V. contracts. To NBA traditionalists, the play-in solution seems unnecessary but unlikely to be actively harmful as the teams already in the No. 8 spot had some strong advantages built in.
It turns out that doubters on all sides were wrong. The play-in is a fantastic addition to the league and the NBA needs to find a way to make it permanent.
The East play-in is completely irrelevant (quelle surprise) as the Wizards haven't really had a competitive team at any point this season, and especially don't have one now without Bradley Beal and Davis Bertans. Washington needed to get hot in the bubble just for a chance to get into a play-in, and they are instead 0-3. Brooklyn and Orlando aren't fighting to hold of Washington — they are fighting to avoid the Bucks in Round 1. (The Raptors are a brutal prize for the victor.)
The West play-in, though — this is magic. The Suns, who we'll discuss below, have gotten hot at the only time that matters and are legitimately in this race. The Kings, who we'll lament below, have gone cold and watched a chance at glory skid away. The Blazers, Spurs and Pelicans are jockeying for position and playing hard every night — there's scoreboard watching, there's tiebreaker consideration, it's legitimately dramatic. It's a playoff-type atmosphere, at least on T.V., with these teams involved in a race for the No. 9 spot.
Meanwhile, Memphis (0-3 in the bubble) still holds the No. 8 spot but is in a spot of trouble as Jaren Jackson Jr. is out for the remainder of the season with a meniscus tear. The Grizzlies are up 1.5 games on Portland, and there's no guarantee they can hang on. The probability that Memphis would miss the play-in completely was low coming in. But losing three straight games and JJJ has erased that comfort. San Antonio lurks just a half-game behind Portland (two behind Memphis), the Pels are another half-game back, and the Suns another half-game behind that. The sharks are circling.
This is great!
The NBA's challenge will be incorporating this into a "normal" season where you can't simply eliminate the truly bad teams — teams like the ones that were left out of the bubble — in March and April. The league could get aggressive and invent a second stage of a season that effectively segregates the garbage teams into their own pod of competition apart from the good or decent teams. Or it could just overlay the play-in rules — maybe extending it to the No. 7 and No. 10 seeds, too — on the traditional set-up.
One additional alteration that should be made: allowing the No. 1 seed to pick their opponent from the lower four seeds. One upside from the play-in system is that a team like Portland — really talented, injury-saddled much of the season — sneaks in as a No. 8, perhaps more scary than the No. 7 seed (Dallas in this case). That's not an upside for the No. 1 seed, who earned some deference. Let the No. 1 seed pick their first-round opponent from the bottom four seeds, let the No. 2 seed pick from the three left over and let the No. 3 seed chose from one of the two remaining teams. Televise it. Spark some drama.
If the play-in system teaches us anything, it's that little tweaks can work in big ways.
Total Shocker of the Day No One Could Possibly Have Seen Coming
The Kings, bestowed with their best opportunity to make the NBA playoffs since 2006, are 0-3 in the bubble and essentially toast. Sacramento blew a fourth quarter lead to the Mavericks on Tuesday and lost in overtime. De'Aaron Fox is playing quite well in the bubble, but he's not enough. That Luka Doncic beat Sacramento with a 30-20-10 performance — the youngest such performance of all time — just slaps salt on the wound. Fans are churning mad with anger that the franchise leadership can't quite seem to muster, instead taking a happy-to-be-here approach.
You know who's not just happy to be in the bubble? The Phoenix Suns, who have now passed the Kings in the standings.
Speaking of which …
Holy Smokes Devin Booker How Dare You?!
The Suns have had an incredible run in the bubble, and it continued on Tuesday against the Clippers. Phoenix led most of the game as Kawhi Leonard and Paul George struggled early. Devin Booker was predictably great throughout. At the conclusion of a back-and-forth final few minutes, Booker did this at the buzzer over PG-13 for the win.
The Suns are 1.5 games out of No. 9. Incredible work from Monty Williams. Devin Booker is a star.
Scores
NBA
Nets 119, Bucks 116 — A deeply improbable win for Brooklyn given the roster they have available. The Action Network claims it was the biggest odds upset in the NBA in 25 years. Apparently some of the Nets were hanging out by the pool on Monday and asking some Rockets also by the pool how that Rockets had beaten the Bucks over the weekend. Houston told them to take the many threes Milwaukee gives you. It worked! The bubble!
Mavericks 114, Kings 110 (OT) — The teams combined to score 74 points in the second half. And it wasn't because these are two talented defensive squads.
Magic 109, Pacers 120 — OK, T.J. Warren: three spectacular games is officially a trend. 32 points on 13-17 shooting this time.
Celtics 106, Heat 112 — Rough loss for the C's considering Jimmy Butler sat. Bam Adebayo is really good. The Heat are now just 1.5 games out of No. 3.
Rockets 102, Blazers 110 — A really fun game — everyone should acknowledge that Houston has been exceedingly fun in the bubble, despite the refs' active whistles — and a strong finish by Portland. All hail M3LO.
WNBA
Wings 79, Sky 82 — Folks, I must implore not to play a close game against the Chicago Sky. It can only end in heartbreak.
Mercury 81, Dream 74 — Really tough loss for Atlanta: they held Phoenix to 39 percent shooting, but gave up 23 turnovers, which led to the Merc having lots more attempts from the field to make it up. The good news is that rookie Chennedy Carter looks fantastic early on.
Sun 74, Storm 87 — I'm really happy for Breanna Stewart (22 points, 5 blocks) and really bummed for Connecticut, who went from the WNBA Finals to … an 0-5 start. It's just about time for the Sun to refocus on salvaging what they can from this season.
Schedule
All times are Eastern. Games are on the respective League Passes unless otherwise noted.
Grizzlies vs. Jazz, 2:30 p.m.
Sixers vs. Wizards, 4 p.m., NBA TV
Nuggets vs. Spurs, 4 p.m.
Thunder vs. Lakers, 6:30 p.m., ESPN
Lynx vs. Liberty, 7 p.m., CBS Sports Network
Aces vs. Mystics, 8 p.m., NBA TV
Raptors vs. Magic, 8 p.m.
Nets vs. Celtics, 9 p.m., ESPN
Fever vs. Sparks, 10 p.m.
Links
It sounds like the NBA has lost steam on creating a second bubble for the league's eight really bad teams. (The Athletic, $)
Dan Devine on Memphis after the Jaren Jackson Jr. injury. At ESPN Insider, Kevin Pelton breaks down how it affects the play-in odds. ($)
The concept of providing broadcast color commentary from a home studio is obviously peaking right now as the leagues experiment. This chat with WNBA analyst Debbie Antonelli is really interesting in that regard.
TrueHoop's Henry Abbott reports there have been some false positive COVID-19 tests in the NBA bubble. ($) One from the WNBA bubble made the news last week; the NBA ones have stayed quiet. Interesting!
Some bootstrap tracking of publicly stated awards ballot. It looks like (SPOILER ALERT) Giannis Antetokounmpo will definitely double up on MVP and Defensive Player of the Year. Montrezl Harrell has an apparent advantage for Sixth Man over Dennis Schroder. All-NBA is very interesting, as is Most Improved.
All hail the one-dribble three.
Michael Lee in The Athletic on the NBA's role in boosting mainstream acceptance of Black Lives Matter. ($)
Marc Spears talks to three white NBA players about why they are speaking up about racism.
In the latest twist of the saga around the appointed U.S. Senator who is a minority partner in the Atlanta Dream and is, for political gain, loudly opposing the Dream's support of Black Lives Matter: Dream players endorsed and posted support for one of said appointed Senator's opponents, Rev. Raphael Warnock, so the appointed Senator accused them of … uh, cancel culture? OK. Let's turn now to fresh new political voice Stan Van Gundy.
In an amusing twist, some members of the Sky and Mercury also wore "VOTE WARNOCK" t-shirts on Tuesday. It's a whole thing. Incredible work making their point by the athletes here.
Michael Pina talked to Black activists and academics about whether sports distract from social justice.
Jordin Canada is ready to be Sue Bird's heir apparent. Matt Ellentuck reports that Bird is day-to-day with a bone bruise, by the way.
And finally, a story we absolutely needed: Zach Lowe on the brewing debate among NBA coaches on suits vs. polos. I love the opening Erik Spoelstra anecdote.
Be excellent to each other.