Stop worrying about the NBA's elite teams for, like, a week
Just because this season's weird doesn't mean the end of the regular season is any more important for teams with nothing to play for.
Good morning. Let's basketball.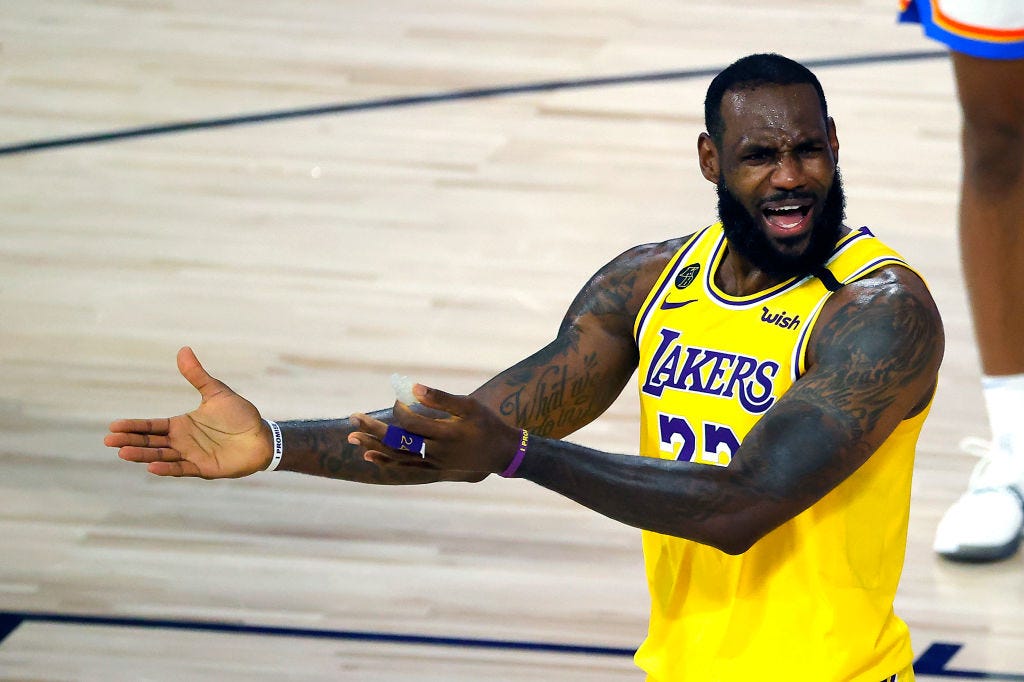 Getty Images Sport
If this were a normal NBA season — which it is not — the top seeds in each conference would merely be halfheartedly playing out the string in early April. If the Lakers, Clippers or Bucks lost a couple games, no one would really care. If LeBron or Khris Middleton stopped hitting shots, or Paul George kept getting dotted on game-winners, some folks might note it and move on. We have conditioned ourselves not to get wrapped up in how well excellent teams play in meaningless games.
Games are now meaningless for the Lakers, Clippers and Bucks. They are also meaningless for the Raptors, but no one has informed Toronto. (Or, hear me out: this is the Raptors not really trying.)
Friends do not let friends make prognostications based on performance in meaningless games.
So if you're discounting the Lakers' chances, or the Bucks' fire, or the Clippers' abilities in the playoffs based on what's happening now with very little if anything at stake, you're fooling yourself. Just relax for a week. Soon enough we'll have games that really, truly matter again for these teams. Then we can react and overreact to our hearts' content!
Bring the Hornets to the Bubble
As SB Nation's Ricky O'Donnell noted, the Washington Wizards have been so bad in the bubble that they have now fallen below the Charlotte Hornets in the standings. The Charlotte Hornets, of course, were not invited to the bubble.
The Wizards, 0-4 in the bubble, are now 24-44 for a .353 win percentage. The Hornets ended their season at 23-42, a .354 win percentage.
I think the only option here is for the Wizards to immediately leave the bubble and for the Hornets to travel to Orlando, quarantine, and pick up whatever remaining Wizards games over the next week they can.
It really is striking how differently the Wizards and Suns approached the bubble. Phoenix had its full complement of players and aimed to finish the season strong in setting up for the future. Monty Williams stressed building culture and competing. The Suns are 4-0 in the bubble and might actually make the playoffs. The Wizards are missing their two most productive players and really can't compete against these teams. It shows.
This won't affect the NBA draft lottery: the league locked that in place before the season resumed so that the Wizards or anyone else couldn't unfairly tank to a better pick. Whew.
Poor Ben Simmons
He had a back injury that knocked him out after All-Star Weekend, recovered during the shutdown and now has a kneecap injury. Per injury analyst Jeff Stotts at In Street Clothes, Simmons could be back within a couple of weeks if damage to other ligaments and whatnot weren't damaged.
Let's Check In On the West Play-In Race
On Thursday, the Blazers, Suns and Kings won while the Pelicans lost. That puts Portland a half-game behind Memphis for No. 8, Phoenix and San Antonio each 1.5 games behind Portland for No. 9 and Sacramento and New Orleans both two games behind Portland. All six teams have exactly four games remaining.
Portland makes at least the play-in if it goes at least 3-1 the rest of the way.
Phoenix and San Antonio can catch Portland only by doing two games better than the Blazers. For example, if the Blazers go 2-2, the Suns need to go 4-0. If the Blazers go 1-3, the Spurs needs to go 3-1. If the Suns and Spurs both do that and end up in No. 9, Phoenix has the advantage by virtue of having played two more games than San Antonio pre-shutdown.
The Pelicans and Kings need to do three games better than the Blazers to catch them for No. 9. So 4-0 with Portland going 1-3, or 3-1 with the Blazers going 0-4. They'd also need to pass the Suns and Spurs in the process.
Memphis tanking out to date complicates this a lot more. But basically, the Spurs and Suns need to make up three games on the Grizzlies to catch them, San Antonio because Memphis played more pre-shutdown games and Phoenix because Memphis won the season series. The Kings and Pelicans would also need to make up three games on Memphis. Two wins for the Grizzlies guarantees a slot in the play-in.
I would say we should have some more clarity after the weekend, but …
Scores
WNBA
Storm 93, Dream 92 — What a battle. Chennedy Carter is L-E-G-I-T.
But the Storm have Breanna Stewart.
They also have the heiress apparent to Sue Bird in Jordin Canada. Look at this pass!
A really long bounce pass *might* be my favorite play in basketball.
Sun 91, Wings 68 — Whew, Connecticut won a game! And without DeWanna Bonner putting up big scoring numbers!
Sky 86, Mercury 96 — The Merc have won four straight, are starting to look a little scary.
NBA
Pelicans 125, Kings 140 — New Orleans, in a must-win, gave up 140 points to the Sacramento Kings. Something's not right here.
Heat 116, Bucks 130 — Miami led by 17 at the half and as many as 23. Milwaukee still won by 14. Giannis had some nasty spin moves in the second half.
Pacers 99, Suns 114 — PHOENIX WINS AGAIN! This is actually legitimately shocking. The Suns are the only West team undefeated in the bubble, they have passed everyone but Portland in the chase for No. 9, Deandre Ayton had a great game, they finally cooled off T.J. Warren. What a run.
Clippers 126, Mavericks 111 — Big game from Kristaps Porzingis in the first-round preview. Clippers in 5.
Blazers 125, Nuggets 115 — Damian Lillard had 45/12 with 11 threes. Denver still doesn't have its full complement of players, and Portland's going to get the Lakers in the first round if they should make the playoffs, but … hmm.
Schedule
The WNBA has three games each of the next three days. Here's the schedule. Below are the most alluring games from each day.
FRIDAY: Sparks vs. Aces, 9 p.m. ET, ESPN2
SATURDAY: Mercury vs. Storm, 3 p.m. ET, ABC
SUNDAY: Lynx vs. Sparks, 3 p.m. ET, ESPN
This is the last weekend of the regular season for the NBA, so I'm focusing on games affecting the two remaining races of high intrigue: 3-4-5-6 in the East and 8-9 in the West. You can see the full NBA schedule here. All times below are Eastern and games are on League Pass unless otherwise noted.
FRIDAY
Note: these are all of the Friday games. They all touch on 8-9 in the West or 3-4-5-6 in the East!
Jazz vs. Spurs, 1 p.m.
Thunder vs. Grizzlies, 4 p.m., NBA TV
Kings vs. Nets, 5 p.m.
Magic vs. Sixers, 6:30 p.m., TNT
Wizards vs. Pelicans, 8 p.m.
Celtics vs. Raptors, 9 p.m., TNT
SATURDAY
Clippers vs. Blazers, 1 p.m., TNT
Lakers vs. Pacers, 6 p.m., TNT
Suns vs. Heat, 7:30 p.m.
SUNDAY
Grizzlies vs. Raptors, 2 p.m.
Spurs vs. Pelicans, 3 p.m., ABC
Magic vs. Celtics, 5 p.m.
Sixers vs. Blazers, 6:30 p.m., NBA TV
Rockets vs. Kings, 8 p.m.
Links
Derrick Jones, Jr., my man: you tried.
The Atlanta Dream are Chennedy Carter's team now.
This new KANGZ merch from The Kings Herald is just perfect.
Wonderful story from Jon Krawczynski in The Athletic on how the Minnesota Timberwolves were saved from relocation to New Orleans in the 1990s. ($)
Interesting take from Mike Sykes on what makes P.J. Tucker stand out in sneaker culture.
The WNBA is playing really, really fast in the wubble.
Michael Pina on why he's skeptical of the Lakers' chances to win the title.
I would aspire to be but never feel comfortable in the NBA Bubble Wine Club.
A report that the Bulls will keep Jim Boylen because of money. Truly the worst reason for a billionaire sports franchise owner to make hiring decisions.
I'm a little afraid that NBA players are going to try to dunk on Bol Bol — like, go out of their way to do it. This happens with very tall, skinny players. It happened to Kristaps Porzingis, after all. Anyway, Jusuf Nurkic seemed to give it some extra juice when Bol Bol rotated over.
Ricky O'Donnell on Howard bringing elite basketball talent to an HBCU.
And finally: Donovan Mitchell on what his last five months have been like.
Thanks for reading this week and every week. Be excellent to each other.