Jerry Reinsdorf should never live this down
The franchise owner could have tried to bring the team back after The Last Dance. He didn't lift a finger.
Good morning. Let's basketball.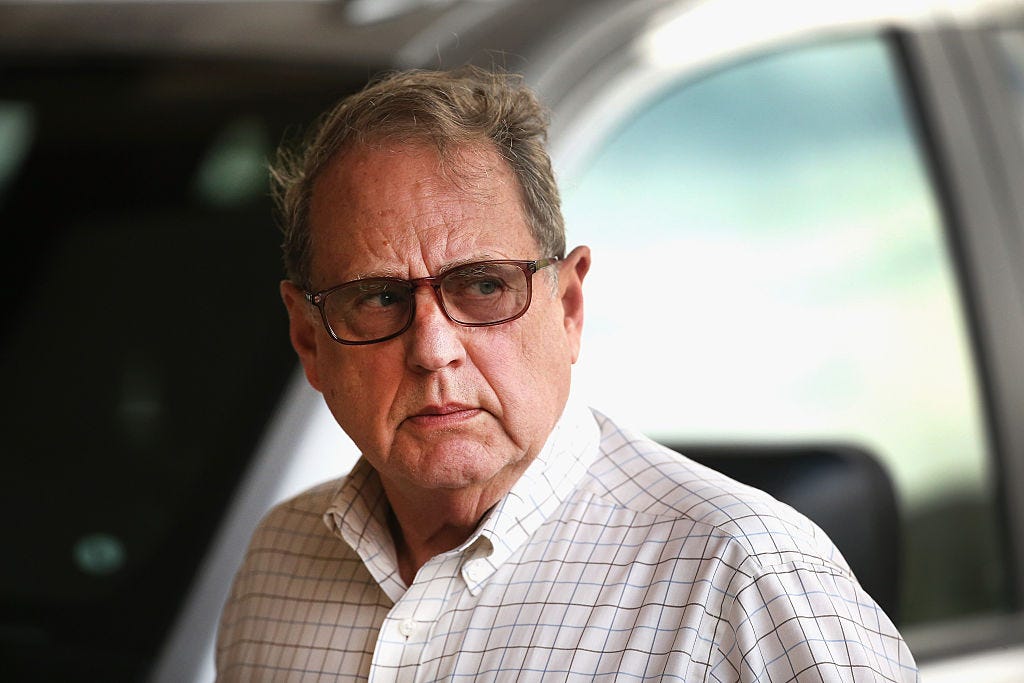 Getty Images Sport
Sunday marked the denouement of The Last Dance, documenting the 1997 championship (including the Flu Game, which is apparently actually the Poisoned Pizza Game), the last two rounds of the 1998 playoffs and, briefly, the aftermath. We also got some Steve Kerr origin story, classic clips of Dennis Rodman hitting Diamond Dallas Page with a folding chair while on unexcused hiatus from the Bulls during the Finals and lots of pretty shots of Michael Jordan's silhouette in one of his oceanfront homes.
The new information outside of the Poisoned Pizza we gleamed was limited, but important. Director Jason Hehir asked Jerry Reinsdorf, owner of the Chicago Bulls franchise, why the front office broke up a squad that won six championships in eight years. Reinsdorf's answer, one presented to Jordan via iPad relay for his reaction: the market value for Scottie Pippen, Rodman, Kerr and Ron Harper would have been far out of league with their actual value, and the Bulls would likely eventually have been stuck with those contracts, hurting their ability to win once Jordan retired or faded.
Reinsdorf also reports that he asked Phil Jackson if he'd like to come back for another year after his general manager, Jerry Krause, spent all year declaring that Jackson was done, even if he'd won 82 games. The reasons why Krause and by extension Reinsdorf demanded Jackson be done are never really specified. Jackson refuses to toss Reinsdorf or Krause under the bus in his interview for the documentary — Jackson's refusal to engage much of anything in his interview is a pretty maddening feature here, especially since he's such a brilliant basketball mind and a good communicator — and says he needed a break.
But one imagines that, if like Jordan suggests the Bulls had tried to convince all of the main players to come back, most of them would have. And if most of them came back, they would have been championship favorites, even with the compressed 50-game schedule that ended up being played after the 1998 NBA lockout.
Pippen is the outlier, the player who was almost assuredly not coming back under any circumstances. He almost abandoned ship during the 1998 season, as documented in early episodes of The Last Dance. And he was critically important to the Bulls' success. So without Pippen, perhaps the Bulls lose to the Pacers or Knicks in the playoffs in '99, or fall to the Twin Towers of San Antonio in the Finals.
The rub is that even if the Bulls couldn't get Pippen back and fell short in '99, and got stuck with some gnarly contracts as a result of holding on for a little too long, the subsequent era still couldn't possibly have been worse than it was.
The Bulls missed the playoffs for the next six years after the sixth title — just a brutal, jarring return to Earth for an otherworldly franchise — and haven't been back to the NBA Finals since '98, 22 years now. The Bulls famously lost just one playoff series in the '90s with Jordan suiting up. The Bulls won just one playoff series in the entire first decade of this millenium.
Worst case scenario: you renegotiate Pippen's contract to give him too much money, you give Rodman more money and he goes AWOL again, you give MJ $33 million and he's no longer an MVP-level player (which … he still would have been), you give Kerr and Harp plump contracts they can't live up to), you lose and you get stuck in a salary hole for a couple of years. WHAT HAVE YOU MISSED? Nothing. You've missed nothing, and now you're not responsible for breaking up one of the greatest teams in sports history.
Krause gets blamed throughout The Last Dance and history for the unwinding of those Bulls. Reinsdorf had power to stop Krause before the '98 season, during the '98 season and after the '98 season. He didn't exercise it, so he's every bit as much to blame, if not moreso. Given how uninvolved he was with the basketball team, and given that his only apparent big decision of note was to hire Krause, who then built a title-hoarding team around MJ, who preceded both in Chicago, this should be Reinsdorf's legacy as the Bulls franchise owner: he broke up a historic team too early for no good reason. He needlessly shortened Jordan's playing career and the historic run of his team for financial reasons, and the franchise took a decade to recover (and frankly truly still hasn't).
Jerry Reinsdorf was there for the ring ceremonies, the championship rallies, the NBA Finals games. Was he there for the subsequent draft lotteries and 59th losses of the season and the garbage time Aprils and the first round dismissals? Because that's what he earned by joining with Krause to blow up the Bulls too early. He earned all of it, and he should never really live it down.
If you enjoyed this piece, sign up for Good Morning It's Basketball, a daily newsletter about the NBA and the world around it. Paid subscribers get five newsletters per week. Free subscribers get one or two of those issues.
P.S.
Why the hell is Jerry Reinsdorf in the Basketball Hall of Fame? Is there at least a special "signed the G.O.A.T's paychecks for 13 years" wing?
Links
Even more absurd Reinsdorf quibbling in Ramona Shelburne's clutch piece on the last-ditch attempt to bring the team back. This stuff from Reinsdorf also makes Krause look better. Nice work, Jerry.
Joel Anderson with the necessary, honest reckoning of Jordan.
Bomani Jones submits to an Isaac Chotiner Q&A about Jordan and more.
Last Friday was supposed to be a HUGE MOMENT for the WNBA. Alas …
Jerry Krause's side of the story from his unpublished memoir.
Kelly Dwyer's cutting room floor pieces for Episode 7 and Episode 8 of The Last Dance. ($)
The producers of The Last Dance had to finish editing it via Zoom and Dropbox. Can you imagine?
Mike Prada on Reggie Miller's excellence and foreshadowing style.
Jessica Price on how COVID-19 magnified college sports' systemic sexism.
A particularly spicy take from Jacobin's Matthew Miranda on Jordan as capitalist icon and the documentary as an ad for that.
Using WinShares to find the price of stardom in the WNBA.
Be excellent to each other.