Hey, who left the lid of the San Antonio Spurs' Playoff Streak coffin open?
The Spurs have taken the No. 9 spot and just beat the Grizzlies once. GULP.
Good morning. As I mentioned last week, this will be a special week for the newsletter: each of the five issues this week will be free for everyone as a celebration of the return of NBA basketball. Next week, we'll go back to one free and four subscriber-only issues per week. $5 per month or $50 per year. I think it's a pretty great deal.
Let's basketball.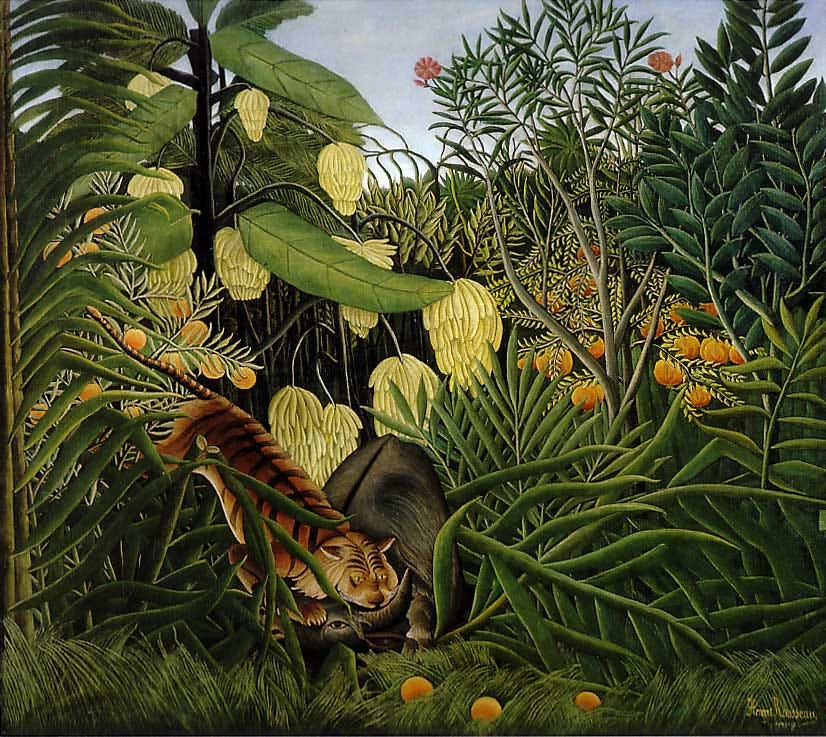 Fight Between a Tiger and a Buffalo, Henri Rousseau
The San Antonio Spurs famously have a 22-year playoff streak. The San Antonio Spurs famously had a rough 2019-20 season that promised to end that streak. The pandemic halted that. Now that action has resumed, few gave the Spurs much of a chance to escape the diminished remainder of the season with a playoff bid. To do so, the Spurs would need to edge all of the Blazers, Kings and Pelicans in standings despite being a half-game back and beat the Grizzlies twice in two games. They'd need to do this without LaMarcus Aldridge, and with the other teams all largely getting more talent via injury recovery. (The major exception: Portland lost Trevor Ariza in the mix.) This was a pretty unlikely scenario given how the Spurs have played this year and the star power the other teams have.
And of course, the Spurs are now in the No. 9 slot after two games, edging the Blazers by a half-game and surging 1.5 games over the Pelicans and Kings. San Antonio beat Memphis on Sunday just to prove it possible if it comes down to a two-game play-in for these teams.
San Antonio buzzed the Kings on Friday before edging the Grizzlies. The Spurs' next three games are the Sixers, Nuggets and Jazz. They finish out with the Pelicans, Rockets and Jazz. No L.A. team, no Bucks or Raptors or Celtics. This is a very manageable situation for San Antonio, especially with the Pels and Kings falling on their respective faces.
Dejounte Murray and Derrick White are starting together after pairing up infrequently before All-Star break. It's working: White's had two strong games in the bubble, and Murray was excellent against Ja Morant and Memphis. Jakob Poeltl is the only starter over 6'6 for Gregg Popovich now, and 6'8 Rudy Gay and 6'9 Drew Eubanks are the only "bigs" coming off of the bench. The Spurs have gone smallball, not quite to the Rockets' centerless extreme, but awful close with only Poeltl on the court for about 30 minutes a game.
DeMar DeRozan, maligned though he may be, has been excellent in both wins. You wonder if the total absence of Aldridge — not a conditional, unpredictable absence as if he were nicked up but recovering, but his total unavailability — is freeing DeRozan and Popovich somewhat. The Spurs don't have another usable big man but Poeltl. Pop has to play small. Instead of starting Gay or Eubanks, he's saving them for the bench and featuring DeRozan and Lonnie Walker IV at the forward spots, making DeRozan the de facto power forward. With a defense-first starting lineup and no LMA to fall back on, DeRozan knows he has to score — and he's doing it. White is picking up the slack, too.
At least through two bubble games, it kind of looks like some mutated form of the vision for how these Spurs could succeed is now coming to pass. It's not a vision that can beat the likes of LeBron and Anthony Davis in a best-of-7 series, but it can perhaps outlast the Blazers and sweep the Grizzlies. The Spurs … the Spurs are interesting again! And they might keep that 22-year playoff streak alive.
All things are possible in the bubble.
Here Come the Suns
A quick shout-out to the Phoenix Suns, who are 2-0 in the bubble and held off the high-octane Mavericks on Sunday despite a tight whistle that put Devin Booker and Deandre Ayton in foul trouble. Book still put up 30 in 31 minutes. Cam Johnson and Rick Rubio were excellent.
The Suns are playing with purpose even though they really don't have a ton of purpose in the bubble. (They are still two games out of No. 9 with all of the other teams in their way. Their next game is against the Clippers.) For the Suns, this isn't about getting into the play-in, which still a longshot. This is all about setting up future success: further developing Ayton, building team confidence and camaraderie for Booker, building a base for Johnson and Mikal Bridges, seeing if Dario Saric is a good fit, continuing Monty Williams' program.
It's also about Rick Rubio nutmegs.
Bless the Suns, a fun team with a strong base to build on. And bless them for showing up to compete.
Scores
Friday
NBA
Grizzlies 135, Blazers 140 (OT) — The first of two crazy finishes this weekend for the Blazers. The buckets that Damian Lillard can pull out of God knows where are breathtaking. And look at Carmelo Anthony in the corner!
Rockets 153, Mavericks 149 (OT) — This game had some very high-quality James Harden content and not a whole lot of defense. Dallas really crumbled in the final minutes of regulation — this highlight package has Harden's wild deep three to keep Houston in it. Masterful performance from one of the best in the world.
WNBA
Liberty 78, Dream 84 — A bad ankle sprain may very well have ended Sabrina Ionescu's rookie season in this game. Best wishes for a speedy recovery.
Aces 95, Mercury 102 — Evidence that Skylar Diggins-Smith and Diana Taurasi are figuring it out, as if there were any doubts.
Saturday
NBA
Pelicans 103, Clippers 126 — New Orleans basically didn't compete in this one, trailing by 32 at the half. A brutal bubble start for the Pels.
Sixers 121, Pacers 127 — Ladies and gentlemen, the first 50-spot in the bubble goes to … T.J. Warren?! Including a 26-foot dagger?!
A lot of those buckets came on Ben Simmons, for what it's worth. Not a great bubble start for the Sixers' vaunted defense. Caitlin Cooper breaks down Warren's 53.
Lakers 92, Raptors 107 — I'm saving my Hot Raptors Take for another win or two. But the team is fully healthy and absolutely terrifying on defense and offense.
WNBA
Mystics 86, Sky 88 —Just don't test the Chicago Sky in a close game, OK?
Sunday
NBA
Blazers 124, Celtics 128 — A huge Portland comeback led by Dame Lillard led to an extremely tight, stressful finish. Jaylen Brown is so good. Gary Trent, Jr. just hits big shots.
Kings 116, Magic 132 — Horrific news as Jonathan Isaac tore his ACL in this game. He'll miss the rest of this Magic season and probably all of the next one, too. Best wishes for his recovery.
Bucks 116, Rockets 120 — Houston won its first bubble on offense and the second one on defense. Russell Westbrook was the offensive star in this one as the Rockets tied the NBA record for most threes attempted in regulation (61), but James Harden had some brilliant defensive plays late, forcing turnovers and stopping Giannis Antetokounmpo in the post.
Mavericks 115, Suns 117 — Mavericks, no, what are you doing?!
WNBA
Schedule
The WNBA has the night off. Here's the NBA schedule. All times are Eastern. Games are available on League Pass unless otherwise noted. (League Pass is running special deals, including a combo with NBA TV if you need it.)
Raptors vs. Heat, 1:30 p.m., NBA TV
Nuggets vs. Thunder, 4 p.m., NBA TV
Pacers vs. Wizards, 4 p.m.
Grizzlies vs. Pelicans, 6:30 p.m., ESPN
Spurs vs. Sixers, 8 p.m.
Lakers vs. Jazz, 9 p.m., ESPN
Links
Mike Prada on Khris Middleton and the most important question in the title chase.
Patty Mills talks to Marc Stein of the New York Times about the racism he faced in Australia and the similarities in experiences.
Not basketball (yet?), but I'm fascinated by Pac-12 college athletes' list of demands to be met before they show up to fall camp. Matt Brown breaks it down here.
Would you believe that coaches love getting to wear polos and slacks instead of suits on the sidelines?!
In TrueHoop David Thorpe writes that the Lakers can't win it all with LeBron playing like he did against the Clippers. ($)
A tomato that looks like Larry Bird.
Mike Sykes on the now-famous orange WNBA hoodie and the need for a women's signature shoe. Sykes also wrote about Under Armour's awful year.
Kelly Dwyer's signature breakdown of the first couple days of action in the bubble. ($)
Why Jrue and Lauren Holiday decided to donate the remaining $5 million of his annual salary to the Black business community.
Be excellent to each other.