Don't yell at the Nets for getting coronavirus tests
Brooklyn tested the whole team and ended up with four positive cases, including Kevin Durant. The mayor of New York City yelled about it.
Good morning. Let's basketball with some respectfully loose defense and uncompetitive rebounding.
---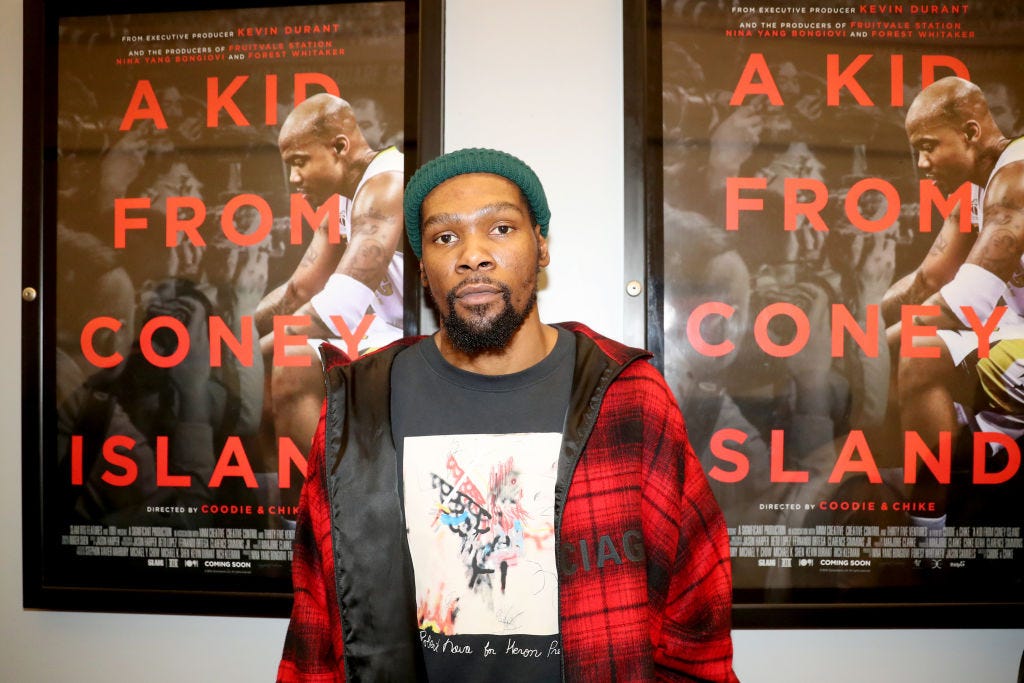 Getty Images
The Brooklyn Nets were in San Francisco when the NBA season was suspended. They hadn't played against the Utah Jazz, which had two players who tested positive for coronavirus, or the Detroit Pistons, which had one, or any team that had recently played against those teams. But San Francisco has had a number of coronavirus cases. So the Nets purchased some tests privately and tested the team when they returned to the East Coast.
Four players ended up testing positive. One is symptomatic. One of the three who isn't is Kevin Durant, who used the opportunity to tell people to stay home.
The other three players appear to wish to remain anonymous.
The Nets played the Lakers last Tuesday, the night prior to the season being suspended. If the Nets caught coronavirus in S.F., the Lakers should come back clean. If the Nets caught coronavirus in L.A. (which has also had some cases) or prior, the Lakers could be at risk. Or maybe the Nets caught coronavirus from a Laker or an official working that game! We don't know. The Lakers appear to be quarantining and testing players. This is what community spread is like. Tracing patient zeroes stops working at a certain point.
As has been the case with other NBA teams acquiring coronavirus tests for players (including those who are asymptomatic), there was a backlash. Hospitals have been begging for tests amid a shortage, and here we (again) have a business worth billions buying up a few dozen of those precious kits to test young, healthy millionaires who aren't showing symptoms and certainly have the means to survive a month out of work.
It's an understandable take when you see charts like this.
Bill de Blasio, the mayor of New York City, summoned his outrage in response to the news of the Nets all getting tested.
I happen to agree wholly with the sentiment that the rich and powerful should not receive preferential treatment when it comes to healthcare. But this ire is misfocused on the Nets organization, which is doing what it can to take care of the people the organization is directly responsible for. The Nets are also one of the teams paying arena workers the remainder of what would have been the season.
Don't blame the Nets for testing their players. Blame the people who caused the incredible test kit shortage. Blame the people who dragged their feet on shutting down schools despite loud, frantic calls from public health officials (including healthcare workers) to do so in order to reduce community spread. Heck, blame the people refusing to take virus shutdowns they put in place seriously.
Of course it's bad that the Brooklyn Nets and L.A. Lakers and Utah Jazz can quickly acquire coronavirus test kits while hospitals and public health offices struggle to gather enough to test even ill patients. But things are not the way they are because of the Brooklyn Nets, L.A. Lakers or Utah Jazz. Things are the way they are because of a failure of leadership at some or many levels. If you read the news, you know where that blame lies.
Political efforts at this point should be able getting the resources necessary to respond to coronavirus and passing policies to improve the plight of those in need, not scoring points off of one of the few big businesses actually making an effort to take care of their people. (In the interest of fairness, de Blasio did announce a deal to get 5,000 tests daily for NYC and schools in the city are offering meals and laptops for students.)
The next major shortage, by the way, appears to be personal protective equipment for healthcare workers.
If you happen to see an NBA star in a mask, maybe don't yell at him but instead direct your ire at those truly responsible.
---
How I Keep Calm
I am not too good at many things, but I would say my defining characteristic is my calmness. Some would describe it as a vague aloofness. Whatever. I'm a chill person, by and large, not prone to panic or worry. I consider it an amazing gift and blessing as I'm really close to people who suffer from panic attacks and generalized anxiety.
A lot of the difference in how people react to stress (like what we're seeing in the world now) is biological. I can't help you with that, except to be the 1,000,000th person to tell you to talk to a therapist and if needed a psychiatrist. But I did want to share a few things I'm doing to maintain my calmness in these times. A self-care routine of sorts, to use contemporary jargon.
1. Physical activity
The scientists among us can explain why physical activity aids brain activity. All I know is that I feel way more relaxed when I go for a walk or lift weights or run. And it doesn't have to be a "workout" — just spend 2-3 minutes getting your heart pumping and I find it takes the peak off in a particularly difficult moment. Jumping jacks while the kettle heats up. Planks while the bread is toasting. Wall sits while the frozen burrito is cooking. Lunges down the street to the mailbox. (Okay I'm not doing that one.)
2. Hydrate
Water is amazing! I can definitely tell when I'm underhydrated based on my mood.
3. Chill on caffeine
As a former coffee addict who has (mostly) given up soft drinks, this can be hard. It's not a great transition — you really have to slow roll it to avoid headaches and energy crashes. But there are a lot of amazing low-caf teas and, again, water is amazing.
4. Mindless fun
Card games. (Uno! I love Uno. Sleeping Queens is great with kids.) Board games. (Ticket to Ride, Carcassonne, Forbidden Island.) Video games. (Civilization VI is hours of mindless fun.) Phone games. (Mario Kart Tour is pretty goofy.) Light movies. Logic puzzles. (I am awful at these.) Books. (Maybe not apocalypse novels.) Instagram, sometimes. Usually not Twitter. (Exceptions apply for when Seth Rogen stoned-tweets a Cats viewing.) Never Facebook.
5. Learning something
Learning is aggravating in a way that the stressful things happening right now aren't. You fail at something you can control until you do better. Kind of empowering. I'm slowly plodding along through an adult beginners' piano book. I knew how to read music already so that hurdle wasn't bad, but getting my individual fingers to do what I know they need to do — pretty hard! Languages are something else where there are a ton of free resources and the main limiting factor is how deeply you want to learn.
Share your personal calming methods in the comments. And good luck.
---
We'll get some links in tomorrow. Be excellent to each other.