Denver ain't no Jok
Nikola Jokic and the Nuggets shred the Clippers' vaunted defense in two straight elimination games to force Game 7.
Good morning. We're going to go blog-style this morning in lieu of our normal structure. Let's basketball.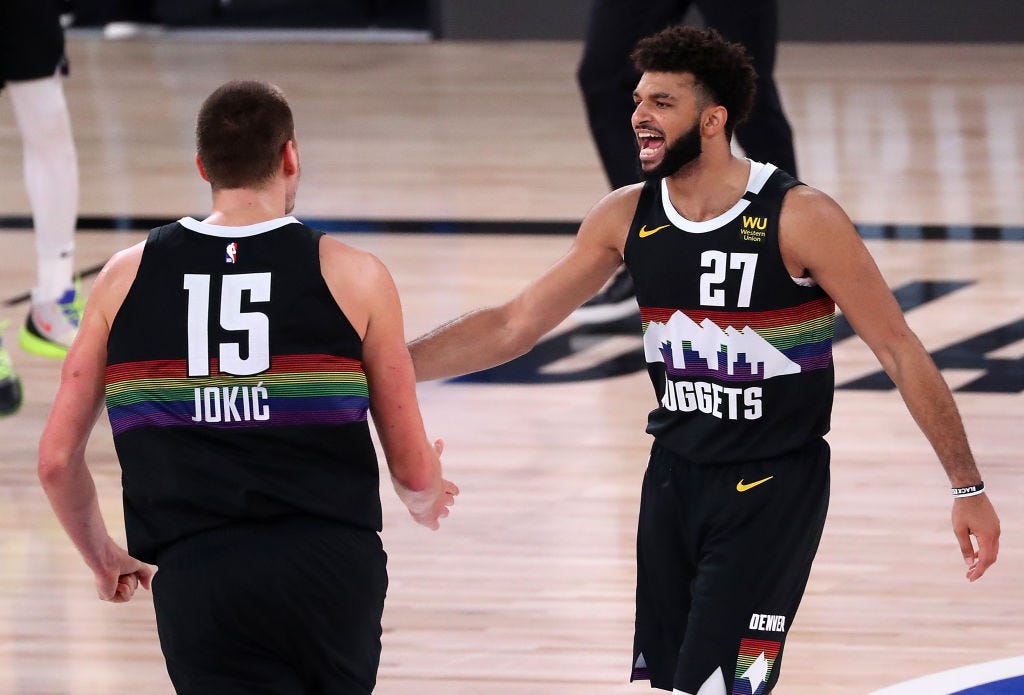 I Ain't No Jok
Since we last newslettered together, the Denver Nuggets — down 3-1 at the time — have won two straight in oddly similar fashion to force a Game 7 against the title favorite L.A. Clippers. That game will be Tuesday.
On Friday, L.A. led the entire game until a Nikola Jokic three to take the lead with 7:06 left in the fourth. The game remained close, but Denver's offense won the day against the vaunted Clippers resistance. There were 11 possessions after that until L.A. had to start fouling intentionally — the Nuggets scored 16 points in those possessions. It's harder to score in crunch time, and the Clippers have two lockdown wings … and Denver just, like, repeatedly scored on them. That surge was capped off by a monster Michael Porter, Jr. three, by the way.
The story was barely different on Sunday in Game 6. L.A. held a lead from early in the first through the end of the third. The lead was as big as 19 points in the second half. But the Nuggets aren't at all scared or intimidated by big deficits or by the Clippers. It shows.
Denver snatched the lead early in the fourth on a couple of Torrey Craig buckets, with Jokic getting his normal rest. Jokic came in with Denver nursing a 1-point lead and nine minutes left. He immediately hit two threes — within 54 seconds of re-entering a 1-point game, he had pushed the Nuggets' lead to seven. Jokic and Jamal Murray tortured the Clips' defense from there, with Gary Harris getting in the mix, too.
From Jokic's re-entry until Michael Malone pulled his starters with 48 seconds, Denver had 14 possessions. They scored 26 points in possessions — almost two points per possession! For the bulk of a fourth quarter of an elimination game.
The Clippers are not nearly as good as they think they are, or the Nuggets are way better than anyone gives them credit for, or both. And now it's a Game 7, and L.A. can absolutely lose this game. The Nuggets have done it once this postseason, and this is the fourth straight playoff series to go to Game 7 for Denver's core (two last season, two this year). Denver has shown no amount of fear in this series, excluding Murray's interview with Scott Van Pelt immediately after winning Game 7 vs. Utah.
Nikola Jokic has been the best player in this series. Kawhi Leonard has had a couple of extremely good performances and has the best resumé. Paul George was really good on offense in Game 6. But Jokic unlocks so much, does so much and is playing with remarkable confidence. That's something Denver has that the Clippers just can't put away right now: confidence. They think they are going to score on L.A., they think they are going to beat L.A., and half the time, they're right.
And now, the two greatest words in the English language: GAME SEVEN. AGAIN!
Photo by Getty Images Sport
Mike Done-toni
The Houston Rockets did not have the same fight that Nuggets have shown. The L.A. Lakers unceremoniously dismissed the Rockets from the bubble on Saturday in a blow-out. The only exciting matter in the fourth quarter was, uh, Rajon Rondo's brother getting ejected from the folding chair crowd for taunting Russell Westbrook. Yes, this really happened.
Anyways, Houston mostly competed in the prior three straight losses to L.A., and simply did not on Saturday. James Harden put up 30 but Westbrook and Eric Gordon were wholly ineffective and the Houston defense continued to crumble under the pressure of LeBron James and Anthony Davis, who traded off on having big games. The Lakers ran off four straight wins without ever looking like world-beaters. That either means they make it look easy, or it means the Rockets just weren't up for it.
Mike D'Antoni, for one, is no longer up for it. He reportedly told the Rockets he will not return next season. His contract was up after acrimonious extension negotiations last summer, and his exit was fairly well telegraphed. The league is D'Antoni's oyster — he'll almost certainly be a head coach somewhere next season, and I must say I'm intrigued by the Philadelphia rumors — but I have no clue who the Rockets are going to pull. Like … what do you even do with that opening? Going forward, what's the job? Take a different slant on the Harden experience? Try to replicate it and hope the team gets lucky?
Also, will Daryl Morey be making this decision, or is his job the next domino to fall here?
Interesting and probably frustrating times ahead for Houston.
WNBA Playoff Bracket
Here's the short version of what happened over the final weekend of the WNBA regular season:
The Aces won out (beating the Sparks and Storm!) to claim the No. 1 overall seed. An incredible run in the Wubble from Las Vegas, who didn't have Liz Cambage or Kelsey Plum. A'ja Wilson is a capital-S Superstar.

The reigning champion Mystics — who also came shorthanded to Bradenton — won out to claim the No. 8 seed. The Wings lost a heartbreaker to Chicago on Friday, which set up Washington to control its own destiny with a Saturday-Sunday back-to-back against the Liberty and the Dream. The Mystics aced the test to edge Dallas for No. 8. This is a team that at one point this season lost 12 of 13.

The hot Mercury got smoked by the Storm on Friday, and so the Lynx win on Saturday over the flagging fever gave Minnesota the critical No. 4 seed and a first-round bye.
That's what happened. Here's what's next with the single-elimination first round of the playoffs on Tuesday night.
Mercury (5) vs. Mystics (8)
Sky (6) vs. Sun (7)
Then the single-elimination second round hits on Thursday.
Sparks (3) vs. Lowest Seed Remaining
Lynx (4) vs. Highest Seed Remaining
Then the best-of-five semifinals begin on Sunday, with the No. 1 Aces getting the team with the worst remaining record and the No. 2 Storm getting the other squad.
Pour One Out for the Raptors
The Toronto Raptors will reign as champions for another month, technically speaking, but their title defense was iced by the Boston Celtics on Friday in an extremely tight, nerve-rattling Game 7.
Jayson Tatum and Jaylen Brown are incredible young players, and Marcus Smart makes stuff happen, and the Celtics are really well built and capable of winning a championship right now. And Toronto — beautiful, sweet Toronto — took them all the way to the brink, even with their offense in shambles.
This piece from Michael Lee in The Athletic celebrating the Raptors' defiant, triumphant title defense is just lovely:
[W]hat they showed in defeat to the Boston Celtics — and during a season in which they made detractors respectfully refer to them as defending champion — is to never underestimate the heart of mid-to-late first-rounders, second-round picks and undrafted free agents. Champions come and go. Those with an eternal point to prove won't let you escape; they make you deal with them.
Fred VanVleet, Marc Gasol and Serge Ibaka are free agents. Kyle Lowry has a $30 million contract for one season that, honestly, a bunch of teams are going to be calling about. Is it time to let the veterans (including KLow) go and build around Pascal Siakam, VanVleet, Norm Powell and OG Anunoby? Can the Raptors afford to run it back with FVV and Lowry and one of their aging centers? Or does Masai Ujiri, the league's best executive, have another plan in mind?
Fascinating title defense for Toronto, great and weird and draining series against Boston, wide-open future ahead.
As for Boston: their series with Miami should be awesome, and it begins Tuesday. So we'll discuss on Tuesday morning.
There's No Basketball on Monday!
Be excellent to each other. See you next time.