Coronavirus made the NBA's decision for it
This morning we asked what the NBA should do about coronavirus. Well, about that ...
Good evening. Let's … uh … let's not basketball or do anything in close proximity to each other.
---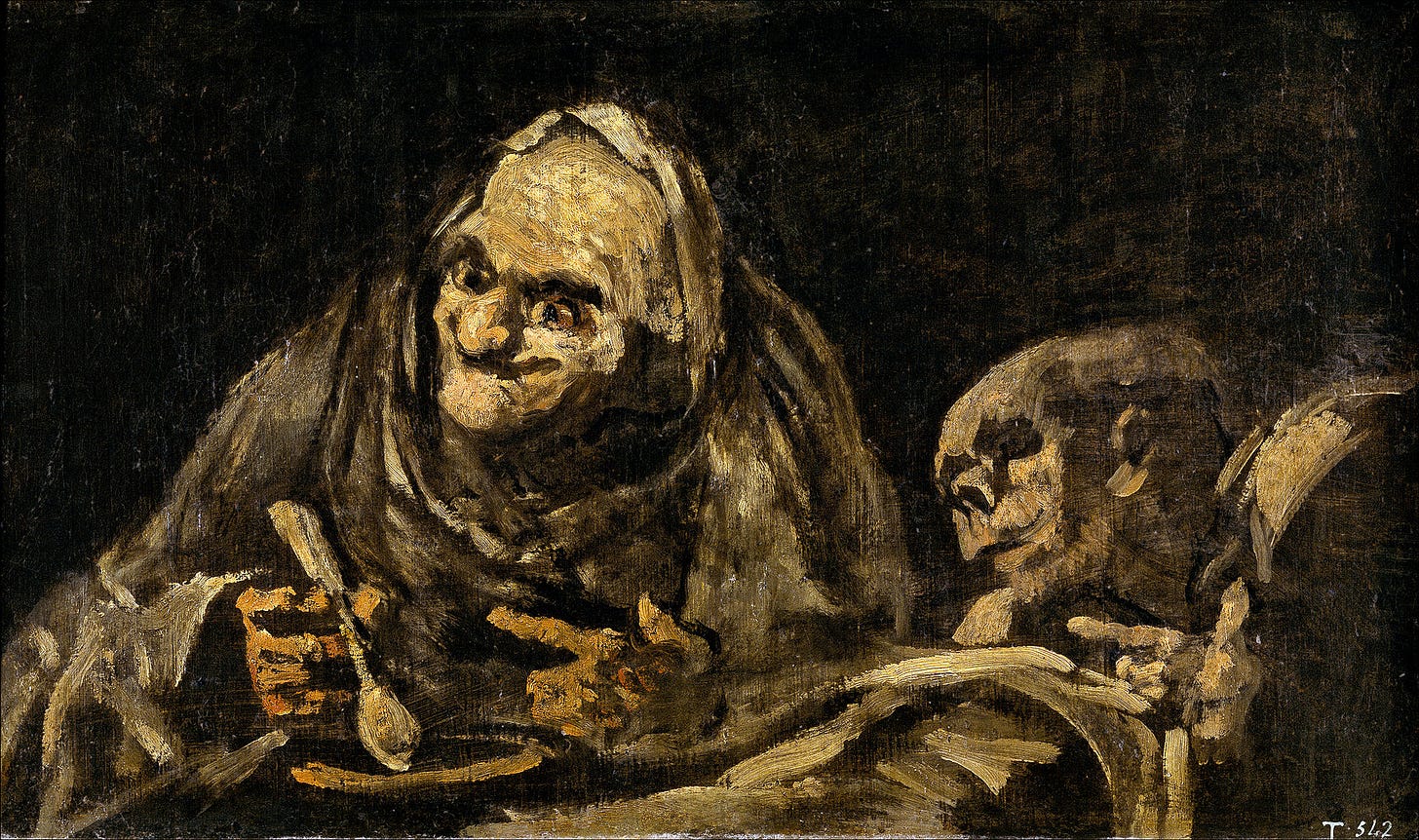 Two Old Men Eating Soup, Francisco Goya
As you've surely heard by now, the NBA took the unprecedented and completely necessary step of suspending the season on Wednesday after Rudy Gobert tested positive for coronavirus. Gobert played Monday, fell ill and was poised to play on Wednesday in OKC until the Jazz ordered up a coronavirus test. It came back positive shortly before the game.
The players were all on the court prepared to go when, as TrueHoop's Henry Abbott tells it, a basketball doctor/superhero named Donnie Strack intervened.
Strack […] is now the Thunder's vice president of human and player performance. And, according to ESPN's Royce Young, Strack sprinted onto the court, just as the referees were about to toss the ball in the air to start the game. So many others had deferred. Strack would be the one to protect the players.

Shortly after the game, we'd learn what Strack presumably knew then: A Jazz player had tested positive for COVID-19.
The Thunder and Jazz were immediately quarantined in the locker rooms. Thunder players eventually left; I presume Jazz players will all be tested. One expects the Raptors, who played in Salt Lake City on Monday, will be quarantined and tested.
If you move backwards through the Jazz's schedule, it becomes clear that the potential infection grows. In fact, Courtney Kirkland officiated the Jazz-Raptors game and was in Sacramento to work Kings vs. Pelicans on Wednesday, what was to be the NBA's final pre-suspension game. (Yes, the NBA allowed Wednesday's games to continue apace.) The league called off the game last minute due to Kirkland's presence.
This is community spread in action. This is happening in communities and circles all over the world, including throughout the United States. People are dying. The number of actual active cases is likely multiples of what we currently think. More people will die. That one of 450 or so NBA players has tested positive is not really a surprise in that context. That Rita Wilson and her husband, that a Senate staffer tested positive — it's shocking but not surprising. Lots and lots of people in America are going to test positive. People are going to die. This isn't all that funny.
The NBA took the right path once it knew it had a coronavirus patient in the league. It sounds like the league was on the verge of keeping fans out of arenas for some time; the Warriors were set to do so in their game against the Nets on Thursday. (Deliciously stupid Knicks franchisee James Dolan reportedly wanted to stay status quo until forced otherwise by local or state governments.)
The season could still possibly be saved (as if that's what is important!) depending on whether the rest of the country starts to take this seriously and gets it under control. The NBA could freeze the standings, move to best-of-five playoff series, start in mid-May and still wrap up in late June. Sorry Pelicans, Kings, Spurs and Blazers. Better luck next year.
But that, in my non-expert eyes, seems to depend largely on whether other entities join the NBA in the breach. On whether this nation gets a handle on this. On whether it's safe to play again.
That should have always been the standard by which the NBA decided what to do. It's alarming that it took a player testing positive for the virus at the center of a pandemic to get there. But we're there now.
Here's to hoping for the best-case scenario for all those afflicted or vulnerable worldwide. Here's to people get the care they need regardless of their resources. Here's to hoping other billionaire franchisees follow Mark Cuban's lead and commit to taking care of in-arena workers impacted by the suspension. Here's to hoping the people "in charge" listen to the doctors and scientists and people who rely on evidence to guide their actions.
Here's to hoping we survive whatever this hellscape year brings us next.
Wash your hands.