Cleveland's rebuild is going about as well as the last one (not good)
In 2010-11, the Cavaliers embarked on a rebuild. It went terribly until LeBron rescued them in 2014. It's happening again, but there's no savior this time.
Good morning. Let's basketball.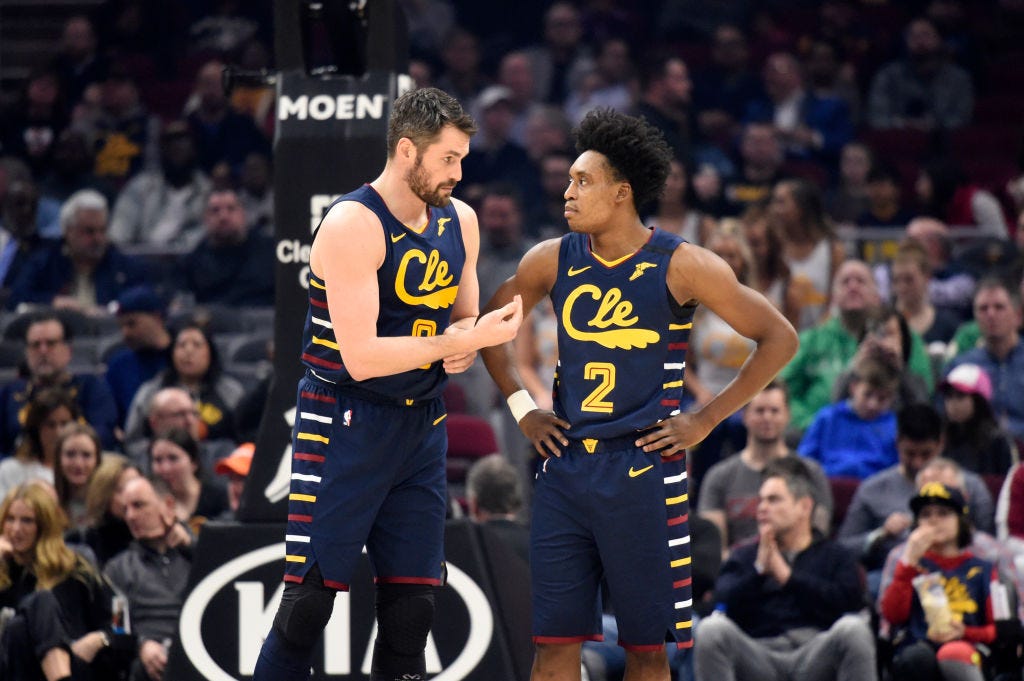 Getty Images Sport
The Cleveland Cavaliers have now had two mainly lost years since LeBron James decamped for Los Angeles. This is pretty similar to what happened the last time LeBron left Ohio in 2010.
Frankly, it's a little eerie. In 2010-11, the Cavaliers went 19-63. Last season, Cleveland went 19-63. In 2011-12, in a season shortened to 66 games due to the NBA lockout, the Cavaliers went 21-45. This season, in a season shortened to 65 games due to coronavirus, Cleveland went 19-46.
If history is any guide, the Cavs have more tough times ahead.
LeBron's return in 2014 and Kyrie Irving's budding stardom largely erased the four brutal years of the LeBronian interregnum — the 2016 championship made it all worth it. But there's no obvious salvation this time around. Cleveland has not had the lottery luck it did in the early part of the decade, when it scored three No. 1 picks in four years (Kyrie, Anthony Bennett and Andrew Wiggins). That could change this year — the Cavaliers will have the second-best odds for the top pick, behind only the rival Warriors. However, the 2020 draft isn't a Kyrie year. It might not even be a Wiggins year. Landing Anthony Edwards or LaMelo Ball isn't a path to revival, necessarily.
Collin Sexton, the first post-LeBron lottery pick, came around in his second season and looks like a potent NBA-level scorer. But he is clearly not a point guard. That job belongs to rookie Darius Garland, for now. Let's just say Cleveland hopes he has a big jump in his sophomore season. That's a reasonable hope as the transition from college to the pros is toughest for point guards. It's not a reasonable expectation — plenty of point guards like Garland wash out — but it's a reasonable hope.
I remain of the opinion you always take the best player available in the draft, regardless of fit with the existing roster. It's worth noting that both Edwards and Ball are guards, albeit bigger guards than Sexton or Garland. So if that Cavalier lottery luck does pay off, J.B. Bickerstaff's job balancing minutes and expectations in the backcourt will be tough.
At the same time, it's hard to say that the Cavs need size. Next year, barring a trade, they'll have Kevin Love and probably Andre Drummond, who has a huge player option and will likely want to avoid free agency during a pandemic with massive likely impacts on the salary cap and teams' willingness to commit big dollars to flawed players. Love struggled to adjust to a rebuild this season, clashing with deposed coach John Beilein. Bickerstaff is a calming influence, it would seem, and the Cavaliers will expect to be on an upswing instead of playing for the future exclusively. So perhaps Love and Drummond will be net assets in 2020-21, helping the kids along and filling talent gaps up front.
But Love is certainly a stopgap — he'll be out of Cleveland as soon as possible, and if Drummond has a good season his bill will come due in 2021. Cleveland can afford to pay him because it won't be paying too many other veterans at that point. But as we learned from Detroit's experiences at the 2020 trade deadline, an Andre Drummond on a huge contract is not the most attractive piece if you end up needing to move it.
The trouble is that Sexton, despite his solid season, is no Kyrie. And there is no LeBron-level free agent likely to come to Cleveland on a whim in 2021 or 2022 or anytime. The Cavaliers' 2014-15 rebound wasn't in any real way organic or replicable. This rebound is going to have to be different, and it's probably going to take making the most out of the young players on the roster — not just Sexton and Garland but Cedi Osman, Kevin Porter and even Ante Zizic — and striking it rich in the draft one of these years. Landing one fine player isn't enough, either: the Cavaliers were trash despite having Kyrie until LeBron and Love showed up. The Love-era Timberwolves and DeMarcus Cousins-era Kings are great examples of teams that had a single great draft pick and built nothing over time. The Anthony Davis-era Pelicans weren't quite that bad, but they had ANTHONY DAVIS for seven years and won a single playoff series.
So really, without a Kyrie and with no chance of a LeBronian save, the Cavaliers are behind where they were circa 2012. No situation in the NBA is as bleak as that of the New York Knicks. But the Cavaliers are pretty close.
Links
ESPN's Baxter Holmes and Zach Lowe report out the elephant in the bubble: the fact that coronavirus cases in Florida are surging. It sounds like the league is confident in the bubble system but monitoring the situation.
David Thorpe of TrueHoop watched the Spanish ACB to see how basketball has changed in the age of coronavirus. ($)
Actual historian Curtis Harris takes the NBA (and other corporations) on the ahistoric statements on Juneteenth.
The Dream's Renee Montgomery explains what she's hoping to accomplish by skipping the WNBA season to focus on social justice.
The Athletic's John Hollinger on the top 20 players to sign for the bubble. ($) Also note that the NBA has confirmed that players who were on 10-day contracts when the shutdown took effect will now be free agents.
Also in The Athletic, Hollinger and David Aldridge on how impossible it is to prepare for 2021 free agency. ($)
I didn't know about Tobias Harris' dad's successful representation and licensed apparel business. He once represented George Gervin!
Lloyd Pierce on The Boardroom on the Coaches' Association's new focus and efforts on racial justice.
Be excellent to each other.